George Floyd is a name that won't soon be forgotten.
His death—with a cop's knee on his neck as he lay restrained on a Minneapolis pavement and declared "I can't breathe"—outraged the nation and sparked an uprising. Thousands of demonstrators across the U.S., in Hawaii, and worldwide took to the streets to protest racism, police brutality, income inequality, socio-economic disparities—and to proclaim that "Black Lives Matter."
The ILWU stands in solidarity with all who fight for racial, social, economic and political justice—including the protesters calling for changes in police policies and practices, an end to racism, and removal of the current occupant of the White House.
Amid the COVID-19 crisis facing the country today, a pivotal election is coming up in less than six months. Register to vote—and be sure your vote is counted on November 3.
---
Statement by ILWU Local 142 President Donna Domingo posted to the Local 142 Facebook page on June 10, 2020.
---
Letter from ILWU International President Adams to Minnesota Governor Walz on the murder of George Floyd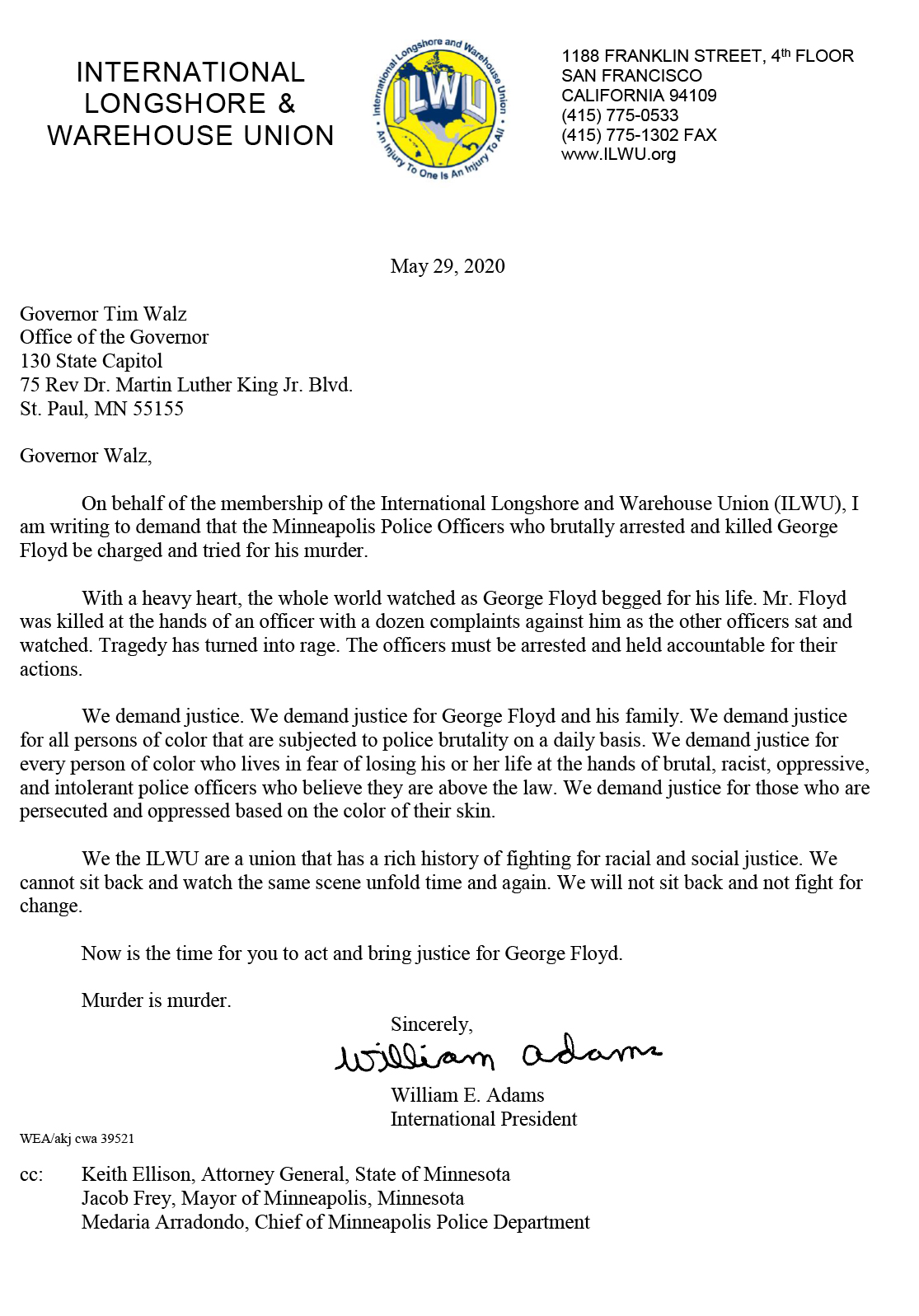 ---
NEW! ANNOUNCEMENTS FOR ILWU MEMBERS
Check HERE first for new and breaking announcements from your union, county, state, and federal government, and community organizations. The information posted here will also be posted under topic pages such as "Finances," "Unemployment," or "Medical Coverage," etc.
Click HERE or on the image below see the ILWU's Coronavirus/Covid-19 Member Information and Resources page.
Welcome to the ILWU!
There are nearly 18,000 ILWU Local 142 members in Hawaii. They live and work on all the islands.
ILWU Local 142 members are employed in every major industry including:
Agriculture includes the pineapple, macadamia nut, and coffee industries, as well as diversified agriculture. General trades include warehousing, trucking, cement, and concrete manufacturing, automotive service and sales, bakeries, newspapers, supermarkets, hospitals, and construction, among others.
ILWU Local 142 members work at diverse jobs such as lab analysts, fruit packers, auto technicians, truck drivers, bellmen, waiters and waitresses, heavy equipment operators, housekeepers, store cashiers, clerks, X-ray technicians, golf course maintenance workers, and salespersons.
ILWU Local 142 members also contribute to our communities every day as mothers, fathers, coaches, church and community group leaders, good neighbors and friends.
Our motto is "An injury to One is an Injury to All," and we work hard to improve the lives of all working families in Hawaii.